TOPSTARZ ENERGY decided it was time to help people by developing a revolutionary, all-in-one energy supplement thats actually good for you.  Unlike anything ever placed on the market, TOPSTARZ provides safe levels of natural caffeine giving you options that best fit your needs.  With a superior B12 that no other beverage has ever used, greater potassium to restore electrolytes & the strongest, safest, clinically proven ingredients ever combined in a supplement.
INCREASED ENERGY
TOPSTARZ ENERGY has taken a revolutionary approach to nutrition by adding a patented blend of glutathione, carnosine, carnitine, choline, and citrulline.  This scientific formula will reduce or eliminate the effects of fatigue, low energy, poor focus, & decreased stamina while benefiting and protecting your liver from a variety of issues to include oxidative stress from alcohol consumption.
ALL-IN-ONE
TOPSTARZ ENERGY is an ALL-IN-ONE, LOW CALORIE, GLUTEN FREE, and ZERO CRASH supplement thats light-years ahead of any other energy product on the market today. TOPSTARZ contains the strongest clinically proven, never before used combination of ingredients recommended by doctors, to CLEANSE and PROTECT the LIVER while promoting RECOVERY, FOCUS, STAMINA, FAT LOSS, ANTI-AGING, MOOD, CIRCULATORY and IMMUNE HEALTH.
REVOLUTIONARY BLEND
No other product out there has our REVOLUTIONARY blend of GLUTATHIONE, CARNOSINE, and MILK THISTLE.  TOPSTARZ even contains VITAMIN C, ZINC, and POTASSIUM, along with all the nutrients other drinks claim to have.  In addition, we are the FIRST to bring you the SAFEST and MOST POWERFUL form of B12, WHILE OTHERS use CYANOCOBALAMIN which is bound to CYANIDE.  TOPSTARZ is all about helping people, and is why TOPSTARZ contains more NATURAL energy rather than insane amounts of sugar or caffeine, providing healthier options with safe caffeine levels from ZERO to a strong cup of coffee, and STEVIA, an all-natural sweetener.
LOW CALORIE
At ONLY 20 CALORIES, TOPSTARZ dominates over the competition with a full bodied, lightly carbonated, citrus berry flavor that doesnt leave you with a diet or sugary aftertaste.

WANNA MIX THINGS UP?
TOPSTARZ is the perfect mix for a huge variety of cocktails.  When used, everything alcohol is taking out of your body, TOPSTARZ is putting back in, helping reduce or eliminate your typical hangover while protecting the liver as well.  From the Health club to the Dance club, TOPSTARZ has you covered!  Whether you're pulling an all-nighter or just trying to get through the day, Get Serious about your body & Get Rejuvenated with a TOPSTARZ!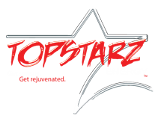 Get Serious, Get Rejuvenated with TOPSTARZ ENERGY!  
For more information, Email Us or give us a call @ 855-55-STARZ