NATURAL CAFFEINE OPTIONS

Like the way TOPSTARZ LIVE & AMPLIFIED made you feel but dont want to consume any more caffeine? Now you can continue your enjoyment by drinking TOPSTARZ ZERO. Safe for any occasion & all generations, now you can't have too much of a good thing!
LATE NIGHT? PLAN IT RIGHT!

Late night is all fun and games until you wake up the next morning. Whether you're heading to work or just have a long day ahead, wake up rejuvenated & on top of your game while others suffer & throw in the towel. Drink TOPSTARZ before, during, & after your late night ventures. Wake up with a cleansed liver feeling healthier, rejuvenated, & on time. TOPSTARZ is the perfect low calorie mix for your favorite cocktail.
MIDDAY CRASH OR CLOSE TO ONE?
You had fun last night but you didn't drink TOPSTARZ, now it's noon and your body is paying for it. You really don't want to force down one of those dangerous, unhealthy, awful tasting drinks to become "Flying Livestock or an Unleashed Zombie". You need something to help you Get Serious & Get Rejuvenated, so you reach for a TOPSTARZ!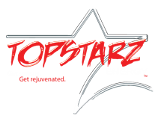 Get Serious, Get Rejuvenated with TOPSTARZ ENERGY!
For more information, Email Us or give us a call @ 855-55-STARZ