TOPSTARZ

contains the absolute safest & most powerful form of B12 which is not bound to cyanide, unlike the form used by our competitors. Not only is

TOPSTARZ

light-years ahead of the competition, our supplement contains

only 20 calories

compared to the 100 or more calories found in the majority of the 8.4 ounce Monster and Red Bull drinks.
PROMOTES RECOVERY

No other energy supplement on the market promotes liver recovery or helps protect the liver from oxidative stress caused by alcohol consumption. When used correctly, TOPSTARZ also helps reduce or eliminate your typical hangover.
TOPSTARZ ENERGY

, along with other mainstream energy products, contain all of the following:
It's our revolutionary blend that cleanses and protects the liver while promoting recovery, focus, stamina, fat loss, anti-aging, mood, circulatory and immune health. TOPSTARZ ENERGY contains a never-before-used revolutionary blend of the following:

Carnitine




Carnosine




Citrulline
Choline




Glutathione

Milk Thistle
DON'T BE MISLED BY AMBIGUOUS CLAIMS!
Other brands often radically claim to have over 100 nutrients. Though this may be true, they are in such microscopic amounts that they provide no real benefits. Know what you are putting into your body!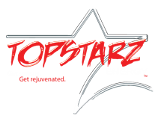 Get Serious, Get Rejuvenated with TOPSTARZ ENERGY!
For more information, Email Us or give us a call @ 855-55-STARZ