DON'T get caught up with incredibly high levels of the cheap and less effective form of B12 called cyanocobalamin when your body can only use or absorb so much. We use only the safest and most powerful form of B12 called methylcobalamin.

Below is information cited by medical professionals:

Cyanocobalamin is the most commonly used form of vitamin B12, but you might be surprised to discover that this form of vitamin B12 does not actually occur in plants or animal tissues. As the name implies, cyanocobalamin contains a cyanide molecule. Most people are familiar with cyanide as a poisonous substance. Although the amount of cyanide in a normal B12 supplement is small, your body will still need to remove and eliminate this compound. This removal is accomplished through your detoxification systems with substances like glutathione in the liver.
Compared with cyanocobalamin, which others use, our form of methylcobalamin is better absorbed and is used much more effectively. In general, methylcobalamin is used primarily in your liver, brain and nervous system. Their cyanocobalamin, in summary, is a low-grade, low-quality and slightly toxic (cyanide) form of vitamin B-12 that's used by all of the cheap vitamin manufacturers. Avoid it completely!
The better choice, our methylcobalamin, is the proper form of vitamin B-12 that exists in nature, and it is pre-methylated, meaning it's ready for your body to put to immediate use.
Methylcobalamin has several key advantages over cyanocobalamin:
Increased absorption




Better retention in tissues




Contains no toxic cyanide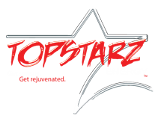 Get Serious, Get Rejuvenated with TOPSTARZ ENERGY!
For more information, Email Us or give us a call @ 855-55-STARZ